Prayer and union with God is the essence of Carmelite lif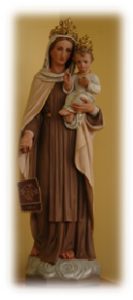 e. Mary is our model. She pondered the Word of Scripture and lived in the presence of her Son Jesus. This simply is what we are called to do.
St. Teresa of Jesus, John of the Cross and Therese of Lisieux, – Doctors of the Church are teachers of prayer. They all looked to Mary as their model and inspiration. All Carmelites have a very special veneration of Mary.
Another Saint of Carmel , Blessed Lawrence of the Resurrection teaches us how to live in God's presence. He says – "How can we pray to Him without being with Him? How can we be with Him but in thinking of Him continually? And how can we be continually in His presence but by making a habit of it?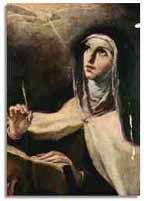 St. Teresa said "Prayer is a frequent heart to heart conversation with Him who we know loves us."
"All our trouble comes from not looking at Him." St. Teresa